Beyond Cabinets & Renovations is a small family business based in Northam, servicing The Avon Valley, Wheatbelt, Perth and surrounds. We not only want to help make your dreams a reality but will go above and beyond to ensure you receive the best service, style, quality, design and experience.
Beyond Cabinets & Renovations was started by Shane Hayward-Waller who has more than a decade of experience in the cabinet making industry. Shane prides himself on both the quality of his work as well as his ability to find creative cabinetry solutions. He looks forward to working with you to create your ideal kitchen, bathroom, laundry or wardrobe. Whether you require cabinets or renovation work done in your home or office no job is too small for Beyond Cabinets & Renovations.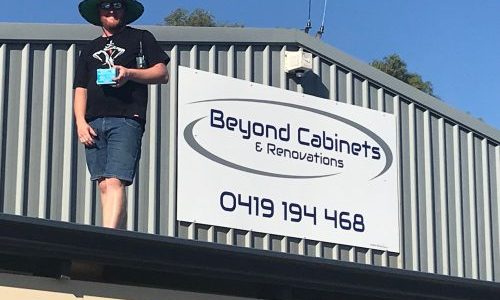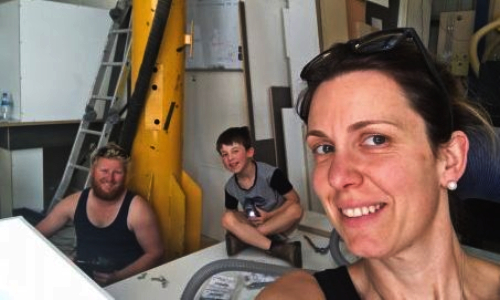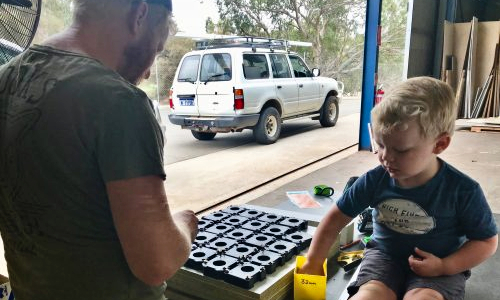 What makes us different
These are the things that set us apart from other cabinetry suppliers.
WE CUSTOM DESIGN
Every job we do is a custom job. We will personally visit your site and guide you through the design and delivery of your vision.
PRECISION MACHINARY
We use the latest fully computerised manufacturing processes which ensure the highest quality and the shortest possible lead times.
WE BUILD AND INSTALL
All our design and manufacturing happens in our Northam workshop AND we also do installation. This means one supplier from start to finish.
A FAMILY BUSINESS
We are a proud, local family business. Our name and our reputation is attached to every job we do.
CASE STUDY
A minimalist masterpiece
Over two months we worked with our client to deliver a sleek, stylish and functional new kitchen for their existing Northam home. Starting with newspaper clippings and a sketch on the back of a napkin we mocked up 3D images using our computer aided design software to help them visualise their ideas. Through multiple iterations of layout, fixtures and finishes we developed a kitchen that was as unique as the clients and their lifestyle.
ISLAND BENCH
A 3.6m long single piece island bench forms the centre piece of this kitchen
FULLY CUSTOMISED
The kitchen includes unique features such as hidden storage, electric touch to open bin and internal utility drawer.
MINIMALIST STYLING
Under bench and in cupboard powerpoints as well as touch to open door and drawers means nothing distracts from the clean lines and finishes.
EXTENSIVE STORAGE
A floor to ceiling pantry, equipment drawers and hidden cupboards within the island bench provide a variety of unique storage options
CASE STUDY
Retail renovation
A renovation of an existing liquor store required our work to be completed in incredibly tight timeframes. Working closely with the store owner we redesigned their customer service area, manufactured off site and then installed within 48 hours.
UNIQUE MATERIALS
Mini orb facias and Victorian Ash benchtops make for a special design.
PROMOTIONAL DISPLAY
Lockable and lit display cabinets set into the counter face provide for exclusive promotional opportunities
PRODUCT ACCESS
Behind counter full width draws and custom storage enhance productivity and service.
AFTER HOURS INSTALL
Installation was completed outside store hours and over a weekend to minimise operational disruptions.
View a gallery of our work
Beyond Cabinets & Renovations has completed a huge variety of custom cabinetry. Click below to see a gallery of our work.
Client testimonials
Don't take our word for it – here's what our clients say:
Shane and Kate are the exact reason you should use local trades. Friendly, efficient and understanding. Shane helped us fit what we wanted into our budget and it is exactly as I had imagined in my mind. Im still pinching myself!! I would definitely recommend Beyond Cabinets & Renovations for any reno big or small.
Jess Ducker
Shane was absolutely amazing, answering my millions of questions and concerns. He arrived on site on time and transformed my ugly duckling of a kitchen into a beautiful swan. Would not hesitate to recommend Shane and his team to anyone thinking of doing any renovations, he really does go above and beyond.
Sam Fillingham
I got Shane and Kate to renovate the kitchen at my holiday house. Now that I have my incredible new kitchen I don't know why I put up with the old kitchen for so long. Shane and Kate were so patient and stepped me through the whole design process. They were complete professionals from start to finish.
Sheryl Badock
Find Us
39 Old York Rd, Northam WA 6401, AUSTRALIA